OPDU Annual Meeting held at Reed Smith, 28 January 2015
Pensions. People should complain more often!
"excellent meeting" "very insightful" "best ever"
Speaking at OPDU's Annual Meeting, Tony King the Pensions Ombudsman surprised his audience by suggesting that he didn't get enough complaints. He said that the Pensions Ombudsman probably got about one thousand complaints a year, which felt a bit low. His concern was that the process for making complaints was so complicated that only the most persistent got through.
However, there were other factors that had led to a fall in complaints, notably the impact of improved regulation, and that encouragingly, the amount of complaints relating to deliberate wrong doing were small, with the majority relating to issues such as delays.
Having announced his intention to stand down later this year after a seven and a half year tenure that was the longest since the role had been created, Tony took the opportunity to look back on his time in the post, highlighting successful changes in culture, processes, and communication. Challenges remained, particularly relating to "pension scams" and making the most of limited resources. However, he said it had been an honour to have held the post, which he had enjoyed.
Tony was followed by Paul Craven, a specialist in Behavioural Economics and a member of the exclusive Magic Circle, who was therefore able to appreciate how the mind can play tricks. Paul believed that it was important in both our professional and private lives to understand the way we make decisions. Far from being completely rational, there were more than one hundred and fifty modern day biases.
There were effectively two systems of decision making: the first was fast, unconscious, reactive, and emotional, whilst the second was slow, conscious, analytical and rational. The evidence suggests we use the first system more than we think when actually we need to use the second system more often.
Drawing on a number of insightful and entertaining examples, Paul opined that we needed more psychology with our economics. In conclusion, bias awareness reduced our errors and increased our insight, and for really important decisions it was important to ask which decision making system we were using.
Jonathan Bull, OPDU's Chief Executive, had begun proceedings by welcoming Terry Faulkner to his first meeting as Chairman of OPDU's Advisory Council. Jonathan stated that until his recent retirement, Terry had been Group Head of Pensions at Rexam Plc, a long term OPDU insured member and was also a former Chairman of the NAPF. Terry's wealth of experience would prove invaluable in guiding OPDU forward. On behalf of the Managers, Jonathan also said that OPDU was indebted to Peter Murray, who had retired in October as Chairman of the Advisory Council, for all the time, energy and wisdom that he had provided to the business both as Chairman and when he was Chief Executive of Railpen at the time of OPDU's launch in 1997. On behalf of all present, Jonathan wished Peter a long and happy retirement.
Terry Faulkner had then formally opened the Meeting by also paying tribute to the work of his predecessor who had chaired the Advisory Council for six years and helped develop OPDU's comprehensive offering.
Notable developments for OPDU in the last twelve months had included the ability to offer lifetime cover for discontinuance and run-off cover, and the introduction of the option to have insurance based on an "Any One Claim" basis, rather than on an aggregate claims limit of liability. Forthcoming developments included the launch of cover and services in Ireland, and a joint initiative with the Pensions Management Institute (PMI) to offer automatic membership of the PMI Trustee Group. Favourable consideration would be given when assessing insurance rates for those schemes whose boards had completed successfully the voluntary PMI Trustee Group continuing professional development scheme.
Terry reported that OPDU's membership continued to grow and had now reached 880 schemes holding assets in the region of £240 billion.
Following a question and answer session, a reception was held with Reed Smith's offices providing spectacular views of London's skyline at night.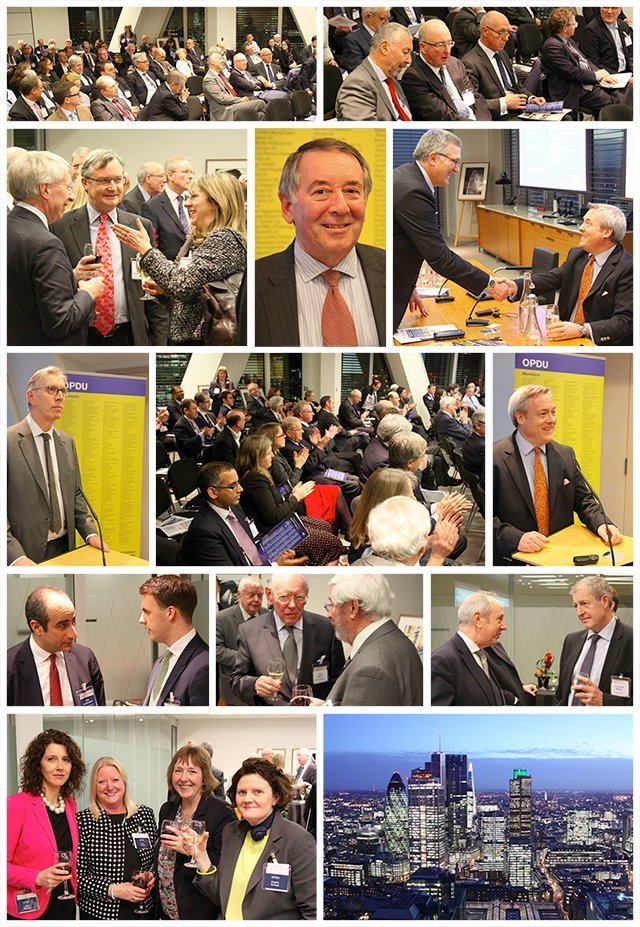 ---